Services and Pricing
Daycare
Health Requirements
Dogs at Play™ has a few basic health requirements to ensure the continued good health of your dog. All dogs must be healthy, flea free, and be current on the following vaccinations rabies, distemper/parvo, and kennel cough. Neutering and Spaying is a must for dogs over 7 months.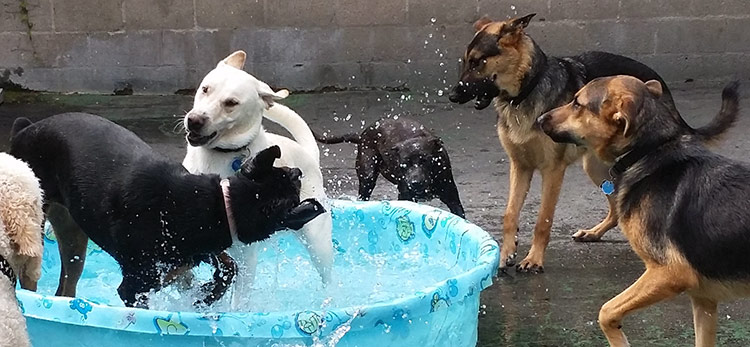 Can My Puppy Come?
Puppies are welcome at Dogs at Play once they have reached fourteen weeks old and have their second distemper/parvo shot.
Late Pickup
Late pickup fee will be strictly enforced. See pricing schedule below.
What Are the Crates in the Front Room For?
Sometimes a dog needs to be removed from the group. This can be for a wide variety of reasons. Puppies who still eat a lunch, over stimulated, over tired or for end of the day safety reasons. WE DO NOT follow a "crate and rotate" system. If your dog can't be with the group and out for the day our system is not right for your dog. We can recommend other daily care facilities that might work better if this is the case. We have 14+ years of success in keeping your dog safe, happy, healthy and exercised. Our knowledgeable staff, and exclusive Dogs at Play system are well known in the Rochester area. We keep small dogs and big dogs separated for the majority of the day. If your small dog is cool with his/her big pals, you are fine with it, and we feel it is safe we will mix them at the end of the day. If we have any concerns such as dogs that are under 15lbs. or "fragile" breeds like Italian Greyhounds, we will either crate your dog for safety or put them in the communal office.
How Do I Get Started?
Fill out our online enrollment application and then give us a call at 585-325-3647.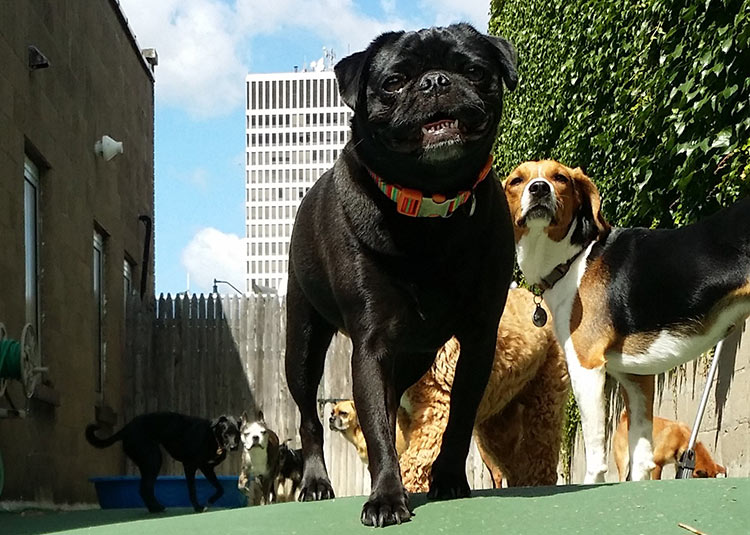 Pricing - Effective January 1st 2019
Please note that all prices include sales tax and are competitive with other local daycare centers. Additionally, if you purchase a package, it does not have to be used on consecutive days, it does not expire and any unused balance is refundable.
1 Full Day
$28 per day
$17 per day for additional dog
New client's first day is free (no purchase necessary)
5 Day Package
$26 per day (saves $10)
$16 per day for additional dog - SAME FAMILY ONLY
10 Day Package
$25 per day (saves $30)
$15 per day for additional dog - SAME FAMILY ONLY
15 Day Package
$24 per day (saves $60)
$14 per day for additional dog - SAME FAMILY ONLY
20 Day Package
$21 per day (saves $140)
$13 per day for additional dog - SAME FAMILY ONLY
Pet Sitting with Daycare Included
Please note that this service is for current daycare customers in good standing. Going away for a few days? Let one of our experienced staff take them home for the night and then bring them back to Dogs at Play in the morning.
$47 per night
$12-20 pick up fee depending on length of stay - MUST BE PRE-PAID
$23 per night for additonal dog - SAME FAMILY ONLY
Bath included for any stay over 5 nights
Bathing
Dogs at Play is pleased to offer bathing services for our daycare customers upon request.
Small dog: $12
Medium dog: $15
Large dog: $17
Giant breed: $19
Nails: $10
Ears: $3.50
Coat Conditioner: $3.50
Brush out: $7-15 (ask for a quote)