Day Care for Dogs?
Because dogs are pack animals, they posses an innate desire to socialize. Daycare provides the exercise and socialization that are critical to your dog's physical and mental well-being. What's more, you'll never feel guilty on those nights when work runs a little later than expected. Dogs at Play™ was conceived as a place where dogs of every shape, size and breed can come play and exercise in a clean, secure, and highly social environment. Our new expanded location offers four large, toy-filled rooms and two large secure outdoor areas that provide small and large dogs with hours of entertainment and plenty of room to run around.
While Dogs at Play™ was certainly made for fun, the health and safety of your dog is always paramount. Constant supervision by our staff of trained professionals insures that your dog is always safe and well cared for. Special features in the facility include innovative "bio sealed" epoxy floors, designed to provide traction and easy clean up, while preventing the growth of potentially harmful bacteria. Our new facility also has a custom designed dog wash.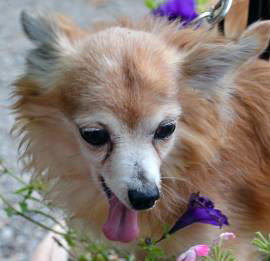 Peppy is an 8 year old male long coated Chihuahua mix who weighs 5 whole pounds! He came up on the Rescue Wagon from Kentucky to find a new home. We don't have much background information on him but he's happy to go on walks and very curious about what's going on around him. Come meet him at Lollypop Farm! Our adoption counselors can help you decide if he's a good fit for you. Peppy is available free of charge to approved adopters, age 60 and over, through our Seniors-for-Seniors program.